Juice Filling Machine
Function: PET Bottle Washing Filling Capping
Filling Material: Juice/Orange Juice/Fruit Juice/Tea etc
Model: HCGF50-50-15
Capacity: 15000-18000BPH
Packaging Type: 200-2000ml PET Bottle
Machine material: SUS 304/316L
Overall size (L*W*H): 5350*3550*2350mm
Weight: 7800KG
Certificate: CE ISO
Warranty: 1 Year
Product Description
Juice Filling Machine
This HCGF Series Juice Filling Machine is mainly used for all kinds of juice such as orange juice, mango juice, pineapple juice & tea etc. Non-gas contained drinks filling in PET bottle.
The three functions of washing, filling and capping are in one unit.
Adopt hanging clamping bottleneck way to convey bottle, thus convenient to replace the bottle type.
Adopt advanced variable frequency speed control device.
The main electrical components are international famous brands.
It is the ideal equipment for mid-scale & small-scale juice production factory.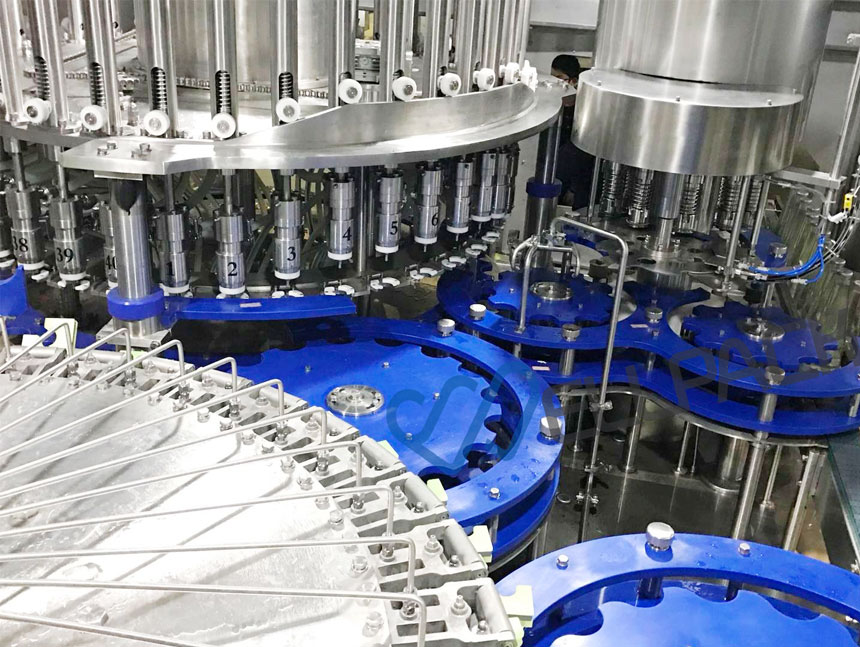 Bottle Washing
1).Enhanced food safety: Stainless steel 304/316L for all components in contact with liquid.
2).Adopting overturning bottle clamp: Avoid touching bottle screw mouth to ensure absolute hygiene.
3).Unique atomizing spay nozzle: High efficiency to clean any part of bottle inner wall and saves rinsing water.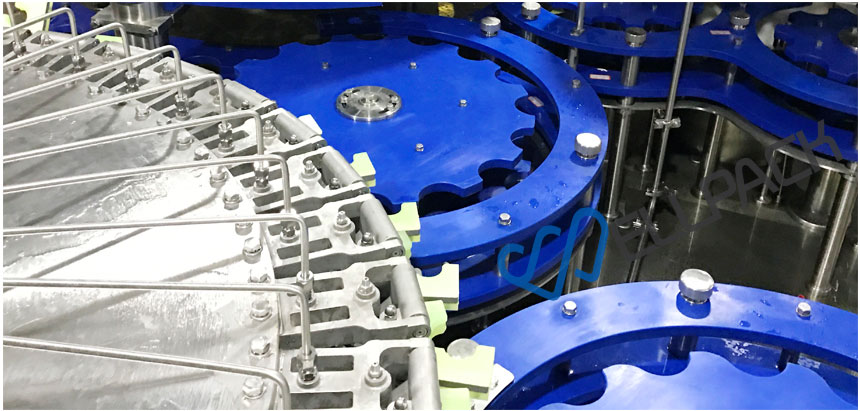 Bottle Filling
1).304/316 Stainless steel high precision filling valves.
2).304/316 Stainless steel fine polish filling tank without death corner.
3).Filling valves are reasonably structured, adopt high filling speed and mass flow rate valve which control liquid level accurately without loss.
4).Liquid level in filling tank is controlled via float-ball.
5).Adopt hot filling method, filling temperate is set at 85℃ to 90℃ with temperature detection device and circumfluence device.
6).Equipped with CIP circulation channels.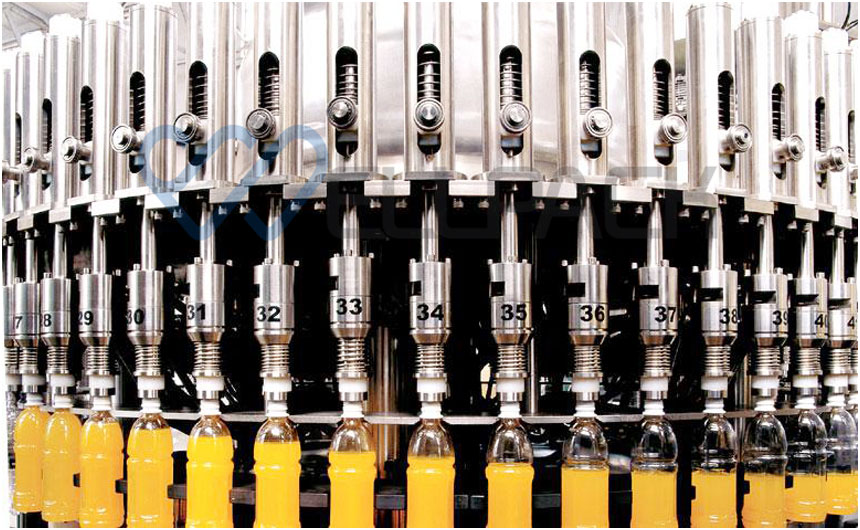 Bottle Capping
1).The capping system applies advanced French technology- when clamp the cap will screw immediately via magnetic torque type capping head.
2).All 304/316 stainless steel construction.
3).No bottle no capping.
4).Automatic stop when lack of bottle.
5).Capping effect is stable and reliable,defective rate ≤0.2%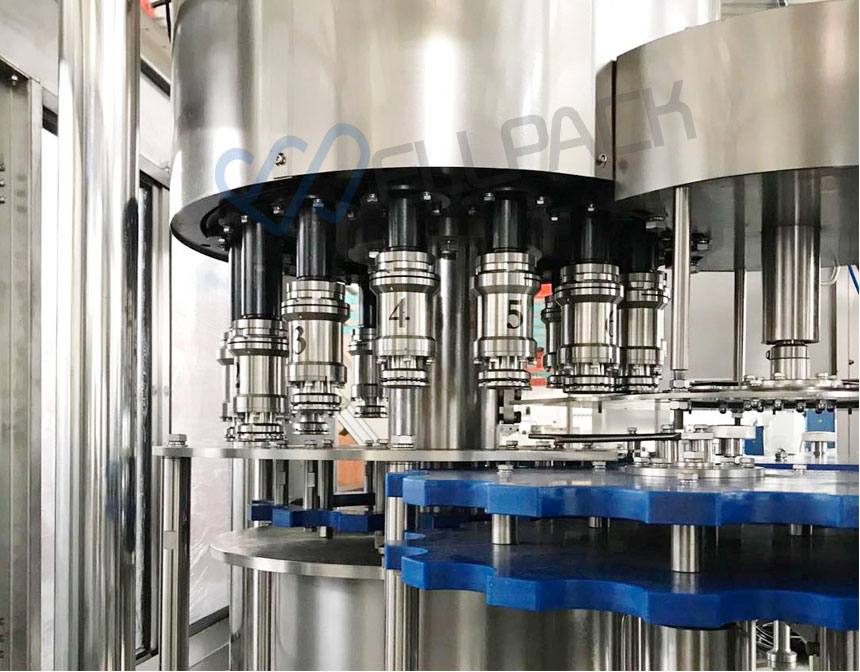 Juice Filling Machine Running In User's Workshop: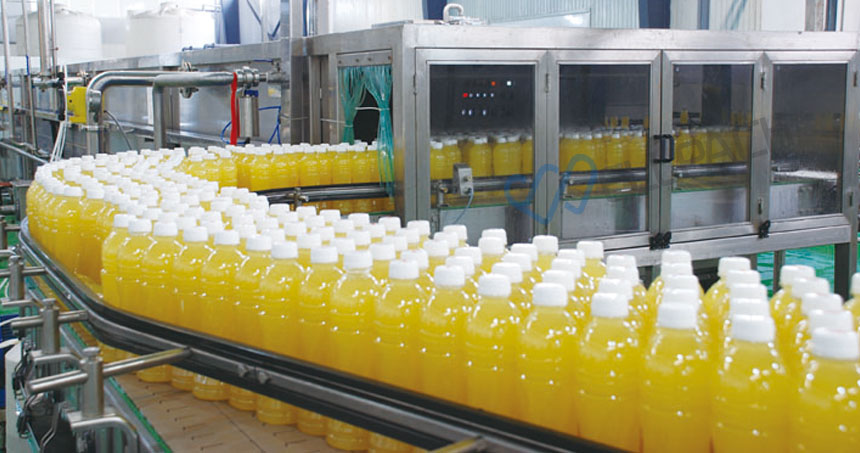 Reference Sheet Of Juice Filling Machine Series Equipment:
Model
HCGF16-12-6
HCGF18-18-6
HCGF24-24-8
HCGF32-32-10
Washing/Filling/Capping heads
16-12-6
18-18-6
24-24-8
32-32-10
Capacity:BPH (500ml bottle )
2000-4000
4000-6000
6000-8000
8000-12000
Bottle shape
Round & Square
Bottle size
Diameter:50-110mm; Height:150-340mm
Cap type
PET screw cap
Filling precision
≤±5mm
Power (KW)
3.5
4.5
5.2
6.5
Overall size (mm) (L*W*H )
2100*1650*2350
2350*1750*2350
2800*2200*2350
3600*2800*2350
Weight (KG)
2000
2800
4500
5500
For more details & info. of the Juice Filling Machine, welcome to enquire now!